Featured: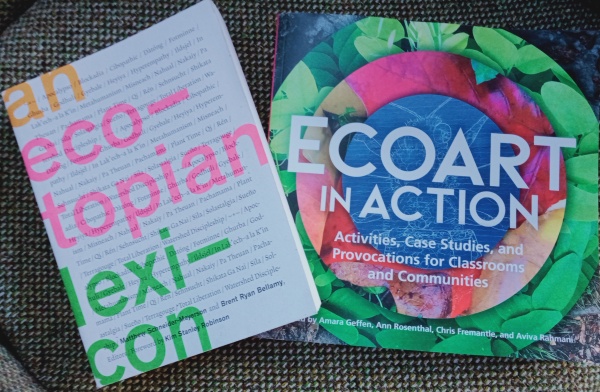 Arts & Climate Mosaic, Americans for the Arts, Arts Link Fall/Winter 2022 Special Edition: Arts & Climate Change.
Jenny Brown (2022). Allodoxic Interventions as a Form of Ecoart in Ecoart in Action: Activities, Case Studies, & Provocations for Classrooms & Communities edited by Amara Geffen, Ann Rosenthal, Chris Fremantle & Aviva Rahmani. New Village Press.
Kimberly Skye Richards (2019). Solastalgia  in An Ecotopian Lexicon, edited by Matthew Schneider-Mayerson & Brent Ryan Bellamy, The University of Minnesota Press.
Gary Sangster (2012). Forms of Responsibility: recent projects by Jenny Brown Scurvytunes
Jenny Brown (2019). Reviving the river system through ceremony. Museums & Galleries NSW e-News, October 23, 2019.
Jenny Brown (2018). Exploring the principles of allodoxic art (in dialogue with Baroness Elsa) Journal for Artistic Research doi:10.22501/jar.386727
Ann Finegan (2016). Solastalgia and its cure – restorative art practice, our relationship to land and refinding the commons. Artlink
Anna Gibbs (2015). 'Solastalgia' at Cementa Southerly
Sacha Kagan (2013). Jenny Brown's exhibition explores governmentality and the illusions of emancipation Cultura21
Others in chronological:
Jenny Brown (2017). GOVERNMENTALITY, ECONOMICS, ACTIVE CITIZENSHIP AND ART: Reparations of an allodoxic media. Thesis title for the award of Doctor of Philosophy, Sydney College for the Arts, University of Sydney 2017.
Ann Finegan (2019). Bunha-bunhanga: Once these were lands of plenty. Artlink
Jenny Brown (2018). Interscape, House Conspiracy. Writing for curated program at the Spring Hills Reservoir and House Conspiracy, Brisbane 2018. Partners: Museum of Brisbane, Roslyn Oxley9 Gallery Sydney, Liquid Architecture, Brisbane City Council, Queensland College of Art and the Australian Earth Laws Alliance. Images: HERE.
Maria Miranda (2018). An Act of Showing: Rethinking artist-run initiatives through place, pp. 176 – 181
Ann Finegan (2014). Visit Kandos: Cement a friendship Artlink
 Jenny Brown's Wink Kandos Projects, 2012.
Jenny Brown (2012). Tied Toxic Blooms Roundtable website for the Art Association of Australia & New Zealand Conference, Sydney
Jenny Brown (2011). My Name is Sud Education Kit. Blacktown Arts Centre. 120 pages. ISBN: 978-1-921482-26-7
Jenny Brown (2011). Virtuous Allodoxia Critical Thinking: Research + Art + Culture, Sydney College of the Arts Graduate School Conference                 ISBN: 978-1-921558-85-6
Jenny Brown (2011).  Hydromemories collective archive Hydromemories, Berlin
Jenny Brown (2010). Titmarsh, M & Gawronski A. eds. Loose Projects pp. 58 – 61
Jenny Brown (2004). Art & Health, Whurr Publishers, London, p 247
Jenny Brown (2004). ARTnode CCD.net (Australia Council for the Arts cultural development website)
Jenny Brown (2002). ARTzone: environmental rehabilitation, aesthetic activism & community empowerment, Cultural Geographies, University of London, 2002, 9, pp. 467-471 ISSN: 1474-4740